Native advertising and display advertising are both important components of an integrated marketing strategy. People often use these two terms interchangeably, but they do not describe the same thing. The key difference between these two forms of paid advertising is in their placement. On one hand, display ads are superimposed on content to grab the viewer's attention and "stand out." On the other hand, native ads are placed within a website's content to match its style and appear "natural." Let's take a closer look at display ads vs native ads:
What is Native Advertising?
Native advertising blends promotional content with the rest of the content—the native content—of a web page. Native ads match the look and feel of the website they inhabit. As a result, they are far less intrusive than other forms of digital advertising. The Interactive Advertising Bureau defines native ads as "a form of paid media where the ad experience follows the natural form and function of the user experience in which it is placed."
What Does Native Advertising Look Like?
When you create native ads, you build them into a site's design and they exist as part of the site's content. Examples of native advertising on websites and social media platforms include "sponsored" or "paid" content posts, pay-per-click (PPC) search engine marketing campaigns, "advertorial" articles in newspapers and magazines, and infomercials on TV. Native ads have an editorial look and feel and are less obtrusive and hard selling than other forms of digital advertisements. Native ads commonly appear as text, images, videos, audio, links, social media posts, etc. They are often used to promote products and services within the context of a news article, blog post, video, or podcast, as in the example below from WIRED: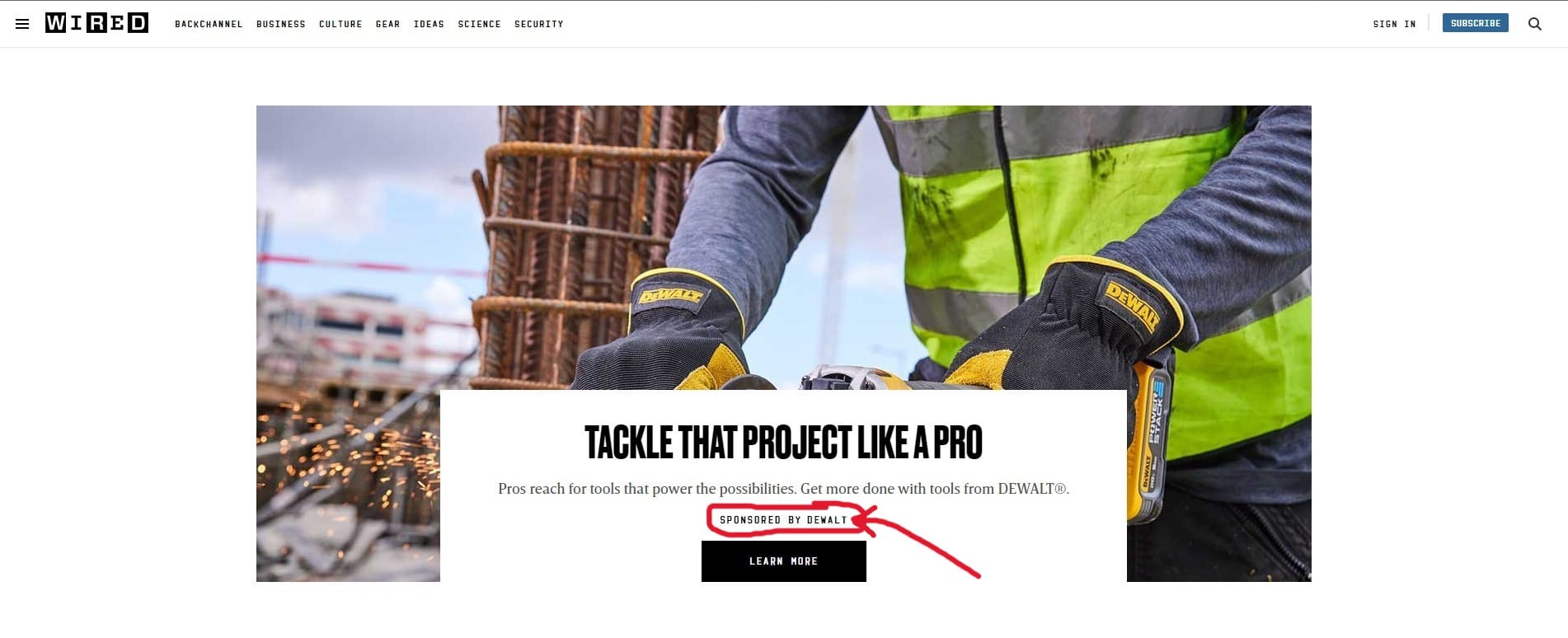 The Benefits of Native Advertising
Native advertising is ideal for driving traffic to your website and has a higher click-through rating (CTR) than display ads. According to a recent study, native ads are viewed 52% more than display ads, and they contribute to greater brand awareness. Consumers also interact with native advertisements 20% to 60% more than they do with standard display advertisements.
What is Display Advertising?
Simply put, display advertising is a visual-based form of online advertising that communicates a commercial message and is superimposed on the users' experience. Display ads help promote businesses whenever people are browsing online, watching YouTube videos, checking their email, or using mobile devices and apps.
What Does Display Advertising Look Like?
Unlike text-based ads, display ads show up on websites, apps, and social media platforms—not in SERPs (Search Engine Results Pages). The original name for display ads was "banner ads." Banner ads showed up as hyperlinked, image-based ads shaped like a banner, or strip. These ads were usually located at the top of a web page. Eventually, banner ads evolved into display ads, which now include interactive elements such as videos, pop-ups, and more. See the example of a display ad from Amazon's home page below:

The Benefits of Display Advertising
Display advertising, much like native advertising, can boost brand awareness and intent to purchase. Display advertising is especially helpful in familiarizing your audience with your brand and creating initial interest. In fact, a recent study found that brand awareness increased by 21% in campaigns that utilized digital display ads. Display ads also allow for remarketing opportunities. Remarketing allows your business to position targeted display ads in front of a specific audience. The benefit here is that this audience segment has previously engaged with your ad, i.e., visiting your website. Once a potential customer knows about your brand, a well-placed display ad can remind them to make a purchase.
Display or Native Ads—or Both?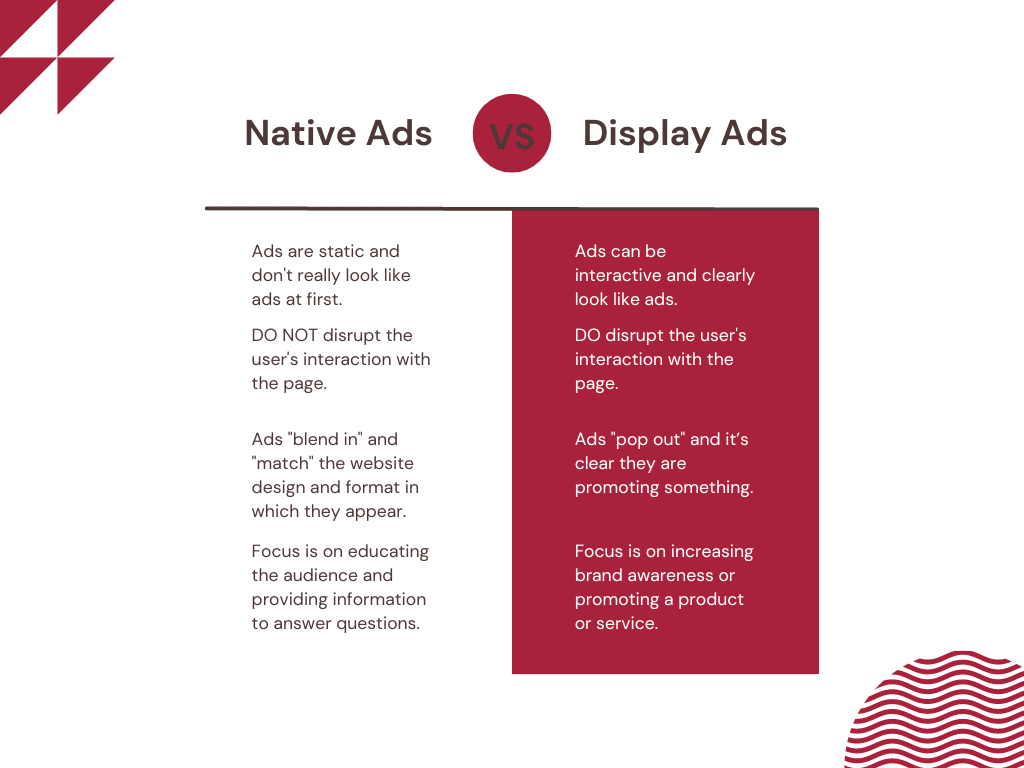 Programmic advertising—the automated buying and selling of online advertising space—has made placing native advertisements easier than ever. Since many consumers use pop-up blockers (or similar software), native advertising is a good workaround marketing option. However, because of the reasons we just outlined, display ads are still relevant and especially important for building brand awareness and retargeting opportunities. Smart marketers will use their budgets to effectively create a combined content distribution strategy that will leverage the strengths of both native and display ads.
Planning and executing a digital advertising campaign can be overwhelming and time consuming. Let the marketing experts at Millennium Agency create a step-by-step plan specific to your business. Give us a call to discuss your marketing goals today.
About Millennium Agency
Millennium Agency is a national, award-winning, digital, creative, content/PR, and video marketing firm. With offices in Boston and New Hampshire, our team unites creative branding and data analytics to accelerate our clients' growth, while combining our clients' vision with our marketing expertise to increase sales opportunities and drive brand success. From video advertising and web design to social media and PR, Millennium can guide your marketing efforts every step of the way. Contact the professionals at Millennium Agency to learn more!
Linda Fanaras is the President and Founder of Millennium Agency located in Manchester, NH, and Boston. She can be reached at 877-873-7445 or lfanaras@mill.agency.