(MANCHESTER, NH | BOSTON, MA) – Millennium Agency, a national-recognized boutique digital creative, content/social and PR firm, is pleased to announce that Robb Atkinson has joined the firm as the Strategic Account Director.
Robb brings an extensive wealth of expertise in public relations, sales, and marketing strategy and will play an instrumental leadership role within the firm. As the News Director for WGME Television in Portland, ME and WATE Television in Knoxville, TN, Robb was also the Senior Director of Sales and Affiliate Relations for CNN. Robb has managed the sales, products, and services to more than 100 television stations nationwide.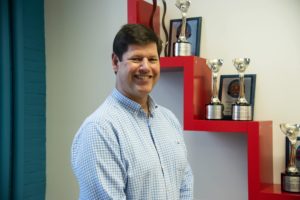 Honored with two Emmy Awards for his investigative medical reporting, Robb has a proven track record of creating original content for digital platforms, radio, and television. Most recently Robb helped launch the NH1 News Network based in Concord, NH.
"Robb's executive expertise and wealth of experience strengthen our ability to formulate a clear and effective strategy for our clients," states Linda Fanaras, President of Millennium Agency. "His ability to lead and amassed business insight make him a welcomed addition and asset to the agency."
About Millennium Agency
Millennium Agency is a nationally-recognized boutique creative branding, content/PR and data analytics firm that unites creative branding and data analytics to accelerate growth. We combine our clients' vision with our marketing expertise and framework to increase sales opportunities and drive brand success for our manufacturing, technology, and consumer products/services clients. Nationally recognized as a women-owned business (WBE and WOSB certified) and certified Google AdWords, Bing, SharpSpring, and HubSpot Agency Partner, the firm works with consumer, technology, healthcare, higher education, and non-profits. With offices in Manchester, NH and Boston, call 877-873-7445 for more information or visit www.mill.agency.