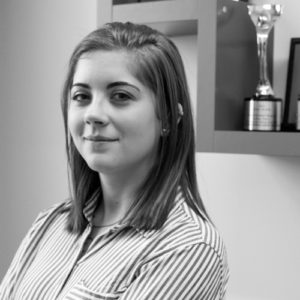 (MANCHESTER, NH | BOSTON, MA) – Millennium Agency, a recognized digital creative, content/social and PR firm, is pleased to welcome Alison DeLeo as their new Senior Account Manager. As Senior Account Manager, Alison has a sole focus on the day-to-day and overall relationships with Millennium clients to ensure their success. From playing a role in creating media plans to helping execute both print and digital tactics, Alison acts as the primary liaison between Millennium and their trusted clientele.
Alison graduated with a B.S. in Public Relations from Suffolk University in Boston Massachusetts. Prior to joining Millennium, Alison began her career in the digital media/buying sphere at some of the top advertising agencies in Massachusetts, before switching over to account management and client relations. With a strong background in both media and accounts, Alison's rounded background has allowed her to wear many hats in the agency field and lend her expertise in multiple areas outside of her Senior Account Manager position.
When asked about her new role and working at Millennium, Alison noted, "I've always known about Millennium and have been so intrigued by this agency and all of their offerings. I'm excited to be a part of something great and continue to learn more each day as well as help clients achieve their goals. There is no better feeling than being able to assist a client and know they are happy with the work you have provided to them. Being able to build new relationships and help achieve goals is something I enjoy doing."
About Millennium Agency
Millennium Agency is a nationally recognized boutique digital creative branding, content/PR and data analytics firm that unites creative branding and data analytics to accelerate growth. We combine our clients' vision with our marketing expertise and framework to increase sales opportunities and drive brand success.
Throughout the years, we have worked with leading technology/manufacturing companies and consumer brands, helping them connect with their customers. Our process is proven: we research the market, create the ideas, test the audience, and launch the brand – then we monitor, measure, and adapt for the best outcomes.
To learn more about Millennium Agency, call 877.873.7445 or visit www.mill.agency.