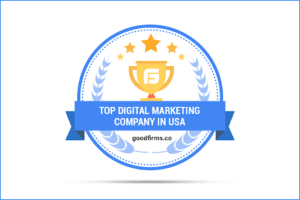 At times, big and expanding companies need help managing the business processes, so they outsource their services to carry out their business operations smoothly. Millennium Agency is the top branding and marketing consultancy firm businesses use to outsource their marketing and lead generation strategies for greater operational flexibility and access to advanced technologies.
Overview of Millennium Agency 
Millennium Agency is a nationally recognized, top woman led B2B branding, positioning, and digital marketing firm who creates value that builds emotionally impactful brands that influences your customer's buying decision, giving you the competitive advantage. As your industry partner for B2B pharma/biotech, technology and manufacturing, our proprietary research-based framework makes a strong impact and accelerates your brand growth. While you focus on what you do best – running your business successfully – our team will build your brand, and drive leads.
Further, the specialists enable clients to increase sales opportunities and drive brand success with their top-notch marketing expertise and framework. This company is the right place for the clients to punch up their brand success.

Highlights of the company:
Millennium Agency offers complete branding and market services in every project phase to achieve targeted sales and revenue goals.
4A's members are based on business ethics, financial stability, and best practices.
Certified in brand management and AMA competitive strategy.
Women-owned small business and WBE certified.
Nationally-recognized award-winning branding and strategic marketing firms possess specialization in branding for healthcare, manufacturers, and technology firms.
Millennium Agency focuses on clients' business requirements, discovers unique strategies to deal with business growth plans, and performs rigorous research and strategy to drive growth.
The company consists of intelligent, creative, curious, and reliable individuals who strive to deliver impeccable services to valuable clients.
Innovative Services of Millennium Agency 
Millennium Agency offers top-notch branding and marketing services to streamline lead-generation strategies and improve its competitive advantage in the market. Below are the main benefits of the company that enables clients to experience the benefits of working with the branding and marketing experts:
Market Research: The skilled team members provide marketing solutions and services that include market research, creative design, positioning and storytelling, digital advertising, social media, web development, marketing automation, data, and analytics that help in boosting online business.
Brand strategy: With a proven branding approach, the experts at Millennium Agency combine all brand elements and communication strategies to efficiently transform the client's brand identity into new sales opportunities. The branding elements include brand positioning, personality, storytelling, competitive advantage, and identity. Further, with a compelling brand story, the team enables clients to uplift their business to new levels.
Creative Design: The innovative team members formulate a unique design strategy that conveys design and content about the client's company. The engaging design can proficiently allure the audience and motivate them to move through the buying journey.
Messaging Strategy: The specialists at Millennium Agency create a powerful message strategy that effortlessly engages the audience and results in a call to action. This service enables the client to achieve their business goal competently.
Web Design and Development: Dedicated web designers and developers build unique, responsive, scalable websites for client projects. The clients' business can seamlessly reach a larger audience with high-performance web functionality.
Digital Marketing Strategy: The specialists build market research strategies that enable clients to stay ahead of other brand-savvy businesses. The content and social media services enhance online traffic, powerful digital advertising of the professionals drive more leads, and high-quality web designing proficiently promotes the clients' brand.
Therefore, GoodFirms, the pioneering research and review platform, considers Millennium Agency as one of the top marketing firms in the US for delivering customer-centric solutions.
What are the factors that distinguish Millennium Agency?
Millennium Agency consists of innovative, experienced, and adaptable team members that follow best practices for brand success. With quality marketing services, the team enables clients to drive sales and have improved ROI (Return on investment).
Further, with proven research strategies, the industry experts deeply understand the customer's requirements and accordingly generate quantifiable results.
Additionally, branding and marketing professionals passionately serve
manufacturers, B2B businesses, and software technology firms with full-fledged marketing and branding services.
The below-mentioned review reflects why customers pick Millennium Agency services.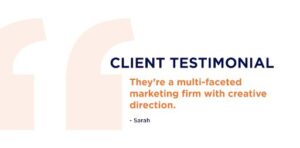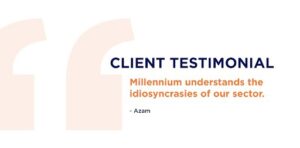 Conclusion
Businesses can reach their potential customers efficiently with the power of marketing as it helps catch customers' attention. Millennium Agency is well-known for offering impeccable marketing solutions that accelerate the business growth of individuals competently.
GoodFirms' research methodology 
GoodFirms conducts thorough research and methodically scrutinizes every service provider to list top companies globally. Remarkably, it is one of the renowned review and rating companies enabling millions of B2B tech companies to explore and accordingly promote their IT products and services. Further, to make the best business decisions, this platform delivers a virtuously customer-rated list of software and service providers encompassing more than 40000 reliable reviews and ratings from genuine customers.
About GoodFirms
GoodFirms is a B2B research and listing platform for businesses pursuing their noteworthy establishment in an information technology field. The company connects software vendors and IT companies with the help of a comprehensive fact-based list of premium services and solutions. Continuously, it updates rankings and gives review scores based on their performance.