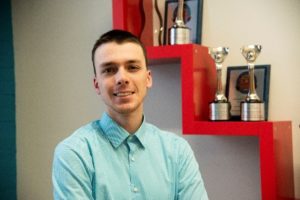 (MANCHESTER, NH | BOSTON, MA) – Millennium Agency welcomes Tyler Leighton of Berlin to their content and public relations team. As Public Relations Manager, he is an important part of Millennium's outbound marketing process for both the firm and its various clients.
Tyler's experience is highly focused in content creation and media communication. He has a strong background in storytelling which comes from his experience in the news industry and his creative writing expertise. He has used these skills to promote brands and events in new and innovative ways.
At Millennium Agency, Tyler's responsibilities as Public Relations Manager include building strong media relationships, increasing awareness, and developing an enviable corporate image for the agency and its clients by creating and executing effective public relations, marketing communication and media relations programs.
"Tyler's ability to work as part of a team and create new opportunities for the firm and our clients make him an exciting addition to the content/PR team," states Linda Fanaras, President of Millennium Agency. "We look forward to Tyler's outside-the-box perspective on public relations strategies and know he will be a valued addition to the agency."
About Millennium Agency
Millennium Agency is a nationally recognized, top woman led B2B branding, positioning, and digital marketing firm who knows how to create value that emotionally influences your customer's buying decision, giving you the competitive advantage. As your trusted partner in B2B software technology and manufacturing, we provide the branding and positioning framework that make an impact – so you can focus on what you do best – run your business successfully. With offices in Boston and New Hampshire, and a worldwide presence, the professionals at Millennium Agency would like to learn more about your business.  Visit www.mill.agency or book time here.